We went to Powerplant Mall-Rockwell this morning to buy some stuff. Before going home, we dropped by Rustan's Supermaket (the one inside the mall) to get some snacks to take home. I chanced upon these packs of
special ube ensaymada
(P63 per pack) sitting in one of the shelves. Attracted by the simple packaging and the seemingly yummy ensaymada itself, I grabbed a pack before walking to the cashier. Upon finishing the said treat with Edwin, I learned that the s
pecial ube ensaymada
at Rustan's Supermarket can give Muhlach's ensaymada and Mary Grace's ensaymada a run for their money. As in.

For one, the ensaymada is very tasty. Take a bite and you're in heaven already. It's fluffy and moist, unlike other ensaymadas that are hard and dry. I liked that it's not too sweet and I couldn't feel the sugar granules in my mouth. The ube in the ensaymada, on the other hand, is just right. You can taste it in every bite. The cheese is very generous, too, which is actually the first thing I noticed when I saw it on the shelves.



This

special ube ensaymada

from Rustan's Supermarket is perfect as a snack or as

pasalubong

. You'll never go wrong with this one, trust me. I'm glad to have discovered this special treat at Rustan's Supermaket. I used to frequent the Rustan's Supermarket near my aunt's place in Sta. Rosa, Laguna but I had never seen this

special ube ensaymada

.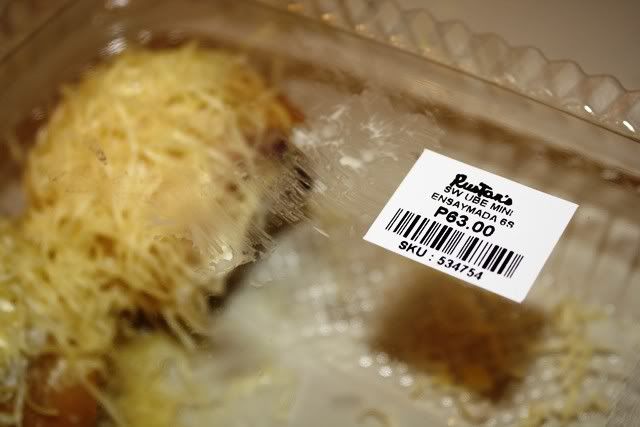 A pack of

special ube ensaymada

(six pieces per pack) at Rustan's Supermarket is priced at P63. That makes it P10.50 per piece of medium-sized ensaymada. The classic ensaymada (unflavored) costs less at P53 per pack. Now, how can you resist something as affordable and delicious as this? I plan to buy more when I go back to Rockwell next Saturday for the bloggers event I'm attending. :)