Weekends are an opportune time for me to experiment in the kitchen. On Sunday mornings, I make it a point to cook breakfast for my family. One lazy Sunday, I experimented on eggs and whipped up my own
pinoy scrambled egg
that made use of hotdogs, longaniza sausage, carrots, tomatoes, onions and cheese. Interested? Here's my very own
pinoy scrambleg egg recipe
: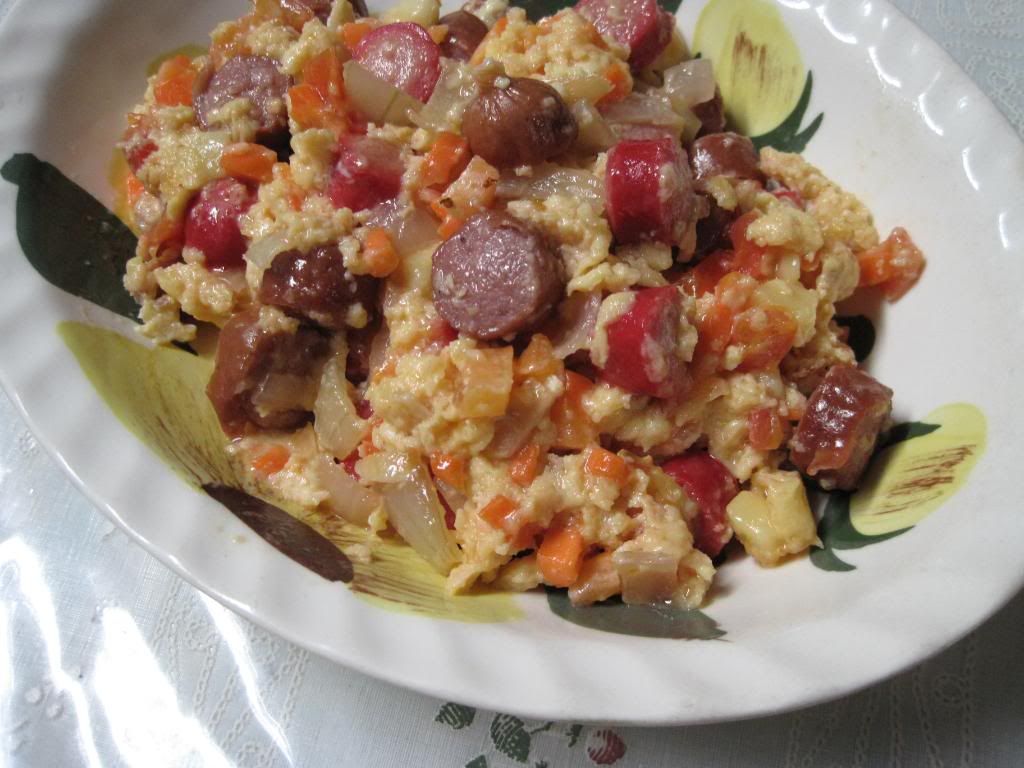 4 medium eggs (beat in a bowl and added with salt)




4 pcs. Purefoods hotdog




4 pcs. CDO Funtastik longaniza (looks and tastes like Jollibee longaniza!)




1 medium carrots, finely chopped




1 small onions, diced




2 small tomatoes, diced




cheese (Eden)




pure olive oil




salt and pepper to taste



1. In a hot pan, pour in some pure olive oil. When the oil becomes hot, throw in the onions. Wait until they become transparent and when they are, throw in the tomatoes.

2. Add the hotdog and the longaniza to the mix. Wait for five minutes while stirring occasionally. Make sure to keep the fire low so as not to burn the onions.

3. Pour in the beaten egg, carrots and cheese. Add some salt and pepper. When the egg is partially cooked and the cheese has melted a bit, flip the sides according to your desired consistency. Mine is a bit soft and saucy:




4. Serve your

pinoy scrambled egg

immediately.


If you liked this post and would be interested to get updated with

Foodiestation

, bookmark this site or subscribe to my feeds.