I first read about
Cyma
(pronounced as see-ma) from a blogger sharing his Boracay experience before. Apparently, he was talking about a
Greek restaurant
located somewhere in the island paradise that serves good
Mediterranean cuisine
. I didn't know
Cyma
has a branch in
Greenbelt 2
until last week when my college friends and I met up for dinner. It was a reunion of sorts so we decided to be more adventurous in choosing our food. One of us recommended
Cyma
and the name immediately ringed a bell to me so I seconded the motion. And so we went inside the posh restaurant armed with our limited knowledge about Mediterranean cuisine. Little did we know that we'd be in for a lovely surprise.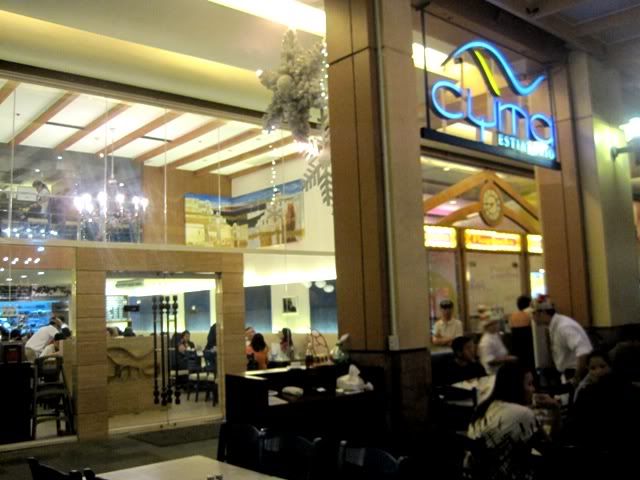 For starters, we got servings of

Hummous

(P125) and

Taramosalata

(P185)

that both came with slices of pita bread. Hummous is chickpea spread that's a popular food in the Middle East while taramosalata is a dip that's made up of cod roe. The two were delicious and filling.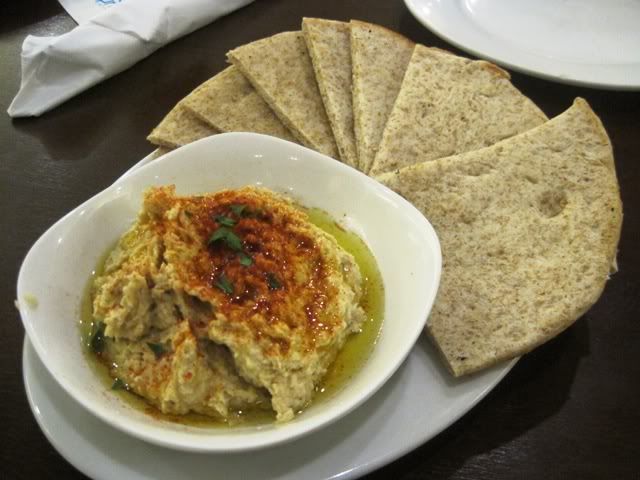 hummous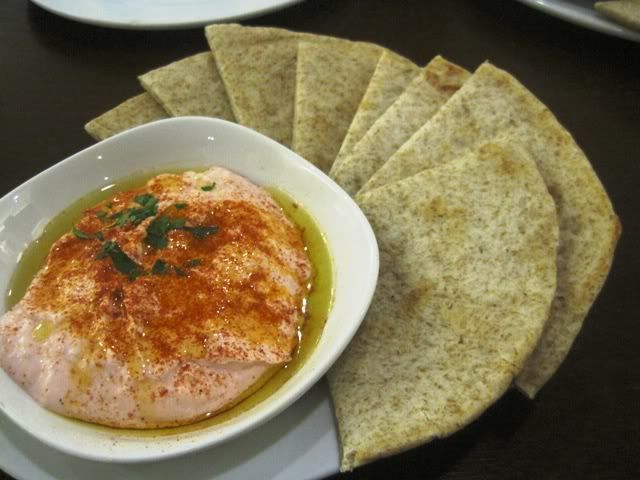 taramosalata


We wanted salad so we asked Shiela (the friendly wait staff) on what to order and she pointed us to

Lamb Summer Salad

(not so sure about the name), P570 (share). It's mixed greens with purple cabbage shreds, black olives, capers, feta cheese and fresh watermelon cubes topped with grilled lamb strips. This salad that was rich in color, flavor and texture was impressive. I liked the addition of fresh watermelon cubes as it made the salad healthier and more refreshing. I even thought this was the best among the various dishes we consumed.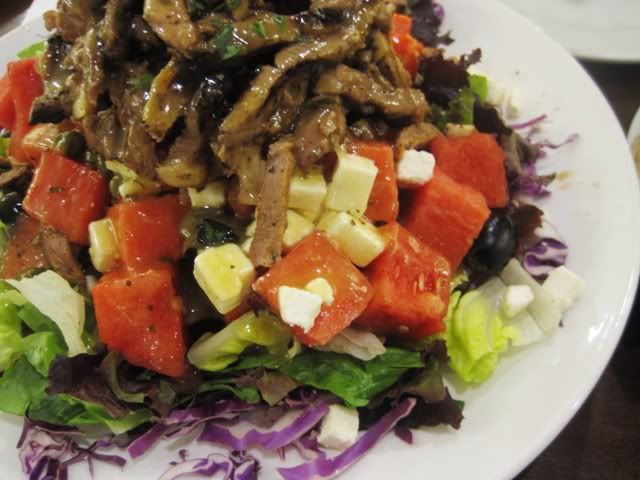 For our main dishes, we chose only two from the extensive menu. One was

Shrimp with Rill and Ouzo

(P550) and the other was

Baby Back Ribs

(P650, half slab). The shrimp dish tasted like

gambas

to me albeit with a richer sauce that hinted of fine herbs and spices. It came with a risotto-like dish that would stick in between my braces when eaten but was surprisingly flavorful. The ribs, on the other hand, was cooked to fall-off-the-bone perfection. I enjoyed this because the meat was juicy and the barbecue dipping sauce complemented the flavors of the meat. The side of potato wedges was yummy as well and would become yummier when dipped in the shrimp sauce. Try it!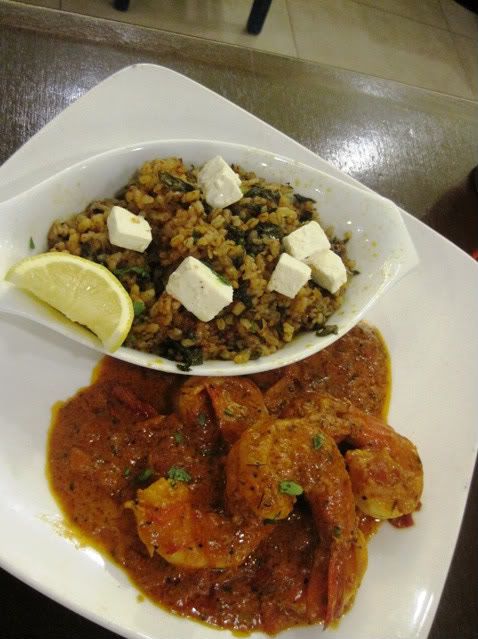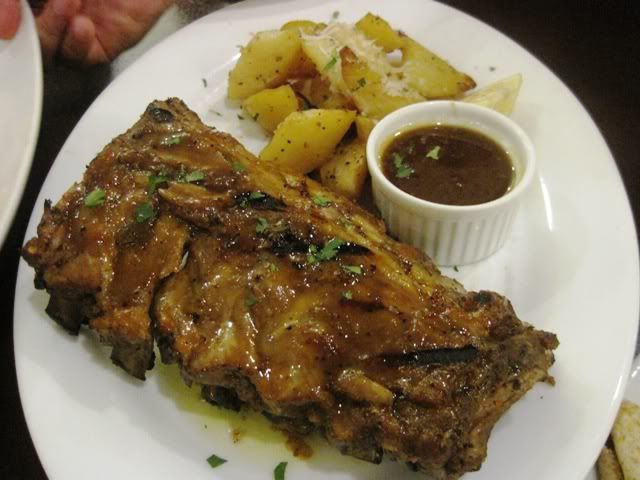 I couldn't complain about the food at

Cyma

as everything we got was gratifyingly delicious. The servings at Cyma were also generous. For our group that night, we chose the "share" servings. If you're a big family and you're going to Cyma, you may opt to get the "family" ones. It's a great way to save money since the prices at Cyma are quite expensive. (Allot P500 - P700 per head.)

As for the service, I found it fast but sure. It helped that the staff were friendly and attentive during our visit. They wore artsy hats as part of their uniform and I found it cool. And if you ordered from their "

Opa! dishes

," expect the servers to bring them to your table with a loud

Opa! cheer

. Now that's something to look forward to.

The ambiance at

Cyma Greenbelt 2

caters more to the young crowd. It has brightly-lit interiors with wooden tables and blue chairs (and doors). It's great for meeting up with friends or enjoying a relaxing afternoon or night with family.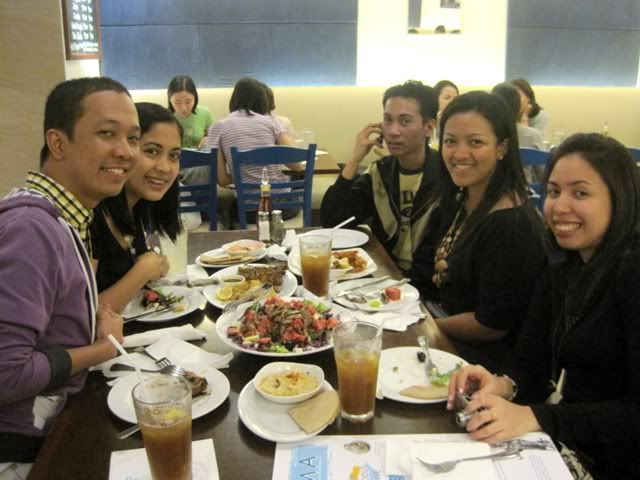 Joints at Cyma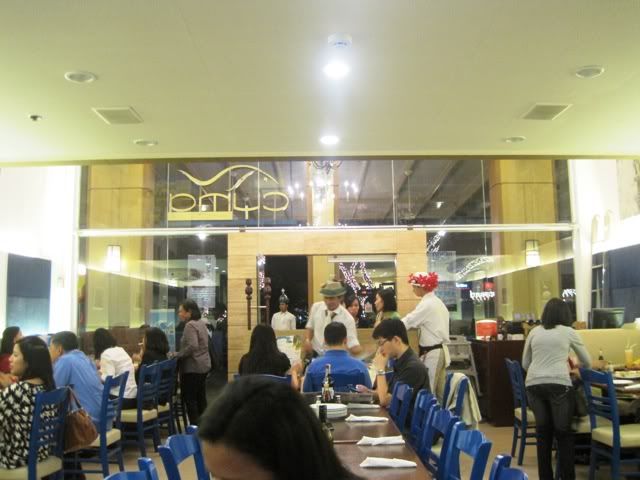 For me,

Cyma

does not only satisfy the tummy's craving for

Greek food

but also offers a unique dining experience that arouses the senses and delights the soul. It's a good choice when you wanna try Mediterranean cuisine with a twist on your next culinary adventure. :)



P.S.

Special thanks go to our friend

Charry

who served as our generous host that night.



Cyma Greenbelt 2


G/F Greenbelt 2, Ayala Center
Makati City
(+632) 729-4837


If you liked this post and would be interested to get updated with

Foodiestation

, bookmark this site or subscribe to my feeds.