Right after the blogger launch of
Globe UnliMail
at Blue Water Day Spa-Ortigas Branch, Edwin and I headed to the nearby Greenhills Shopping Complex for dinner. Though we already had sandwiches in the event, I was craving for some noodle soup so off we entered
Le Ching Tea House
at the basement of Shoppesville Arcade. With just a few minutes away from closing time, the restaurant still had several of its tables occupied.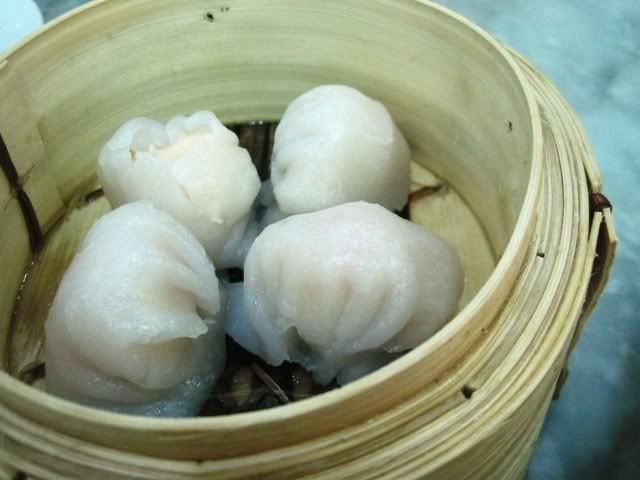 Hakao, P80

. This shrimp dimsum was delicious but I found the wrap over-steamed. This was four pieces per order, not bad since each hakao had a whole medium-sized shrimp that tasted fresh. Oh and, have I mentioned that their chili sauce was the best? It had the right kick that awakens the taste buds and bites the tongue, if you know what I mean.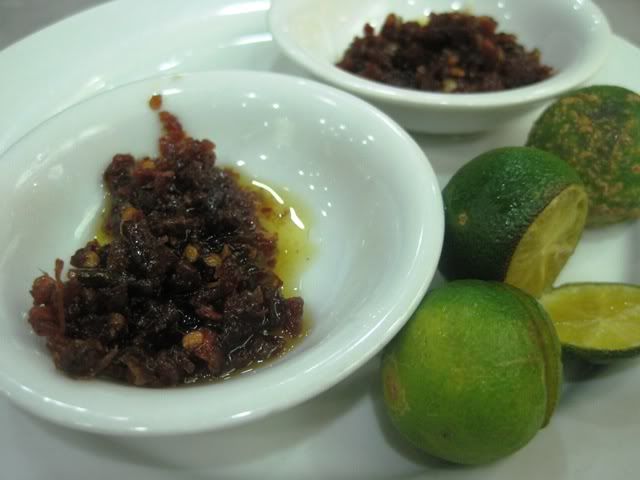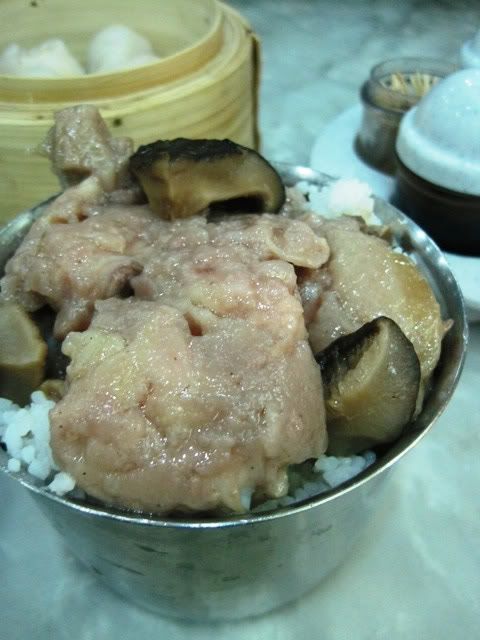 Chicken with Mushroom Rice, P115

. This is one of the topped rice on the menu. It was like Singapore's national dish 'chicken rice' minus the flavor and double the fat. The chicken pieces on this dish were more on the bony and fatty side that I thought I only got 10% lean meat. I found it bland, taste wise. I didn't like it and I won't order this again. But in fairness to this dish, the rice was sticky and fragrant which was very good to eat with dimsum. Perhaps, I'll order the Spare Ribs Rice next time which most people rave about. Well, that's if I haven't eliminated pork in my diet yet.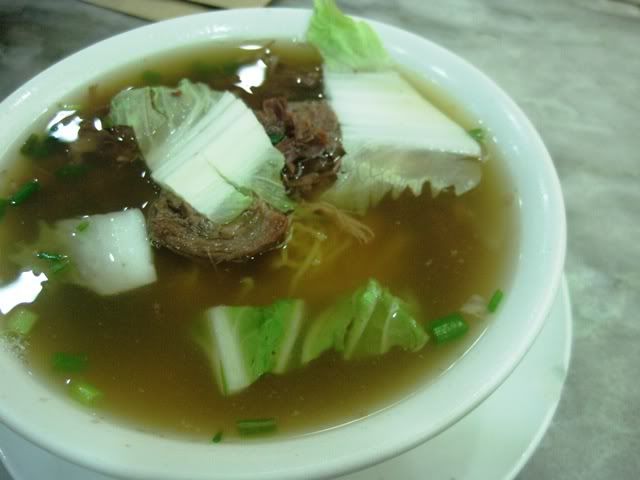 Beef Brisket Noodle Soup, P112

. This is the winner among the food items we ordered! The soup was flavorful and the beef was tender. It also came in a big bowl that was good for two people which I thought made it worth its price.

For drinks, we got some iced tea that sells for P35 per glass. I found it amusing that they use ordinary straw for this drink. It looked weird since the glass was small and the straw was long (see photo below). Actually, I ordered bottled water and not iced tea but these were what the waiter served us. He, by the way, was not so friendly with us and looked tired, must be because they were about to close the resto already. It was not a big deal for us, though.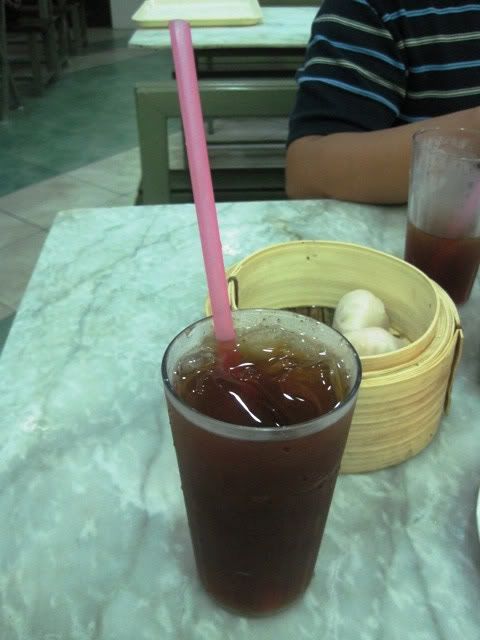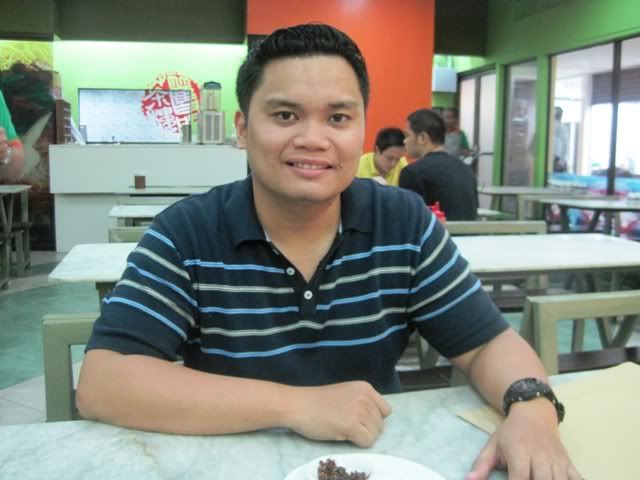 Edwin and I shared everything and we thought we had value for money as the prices at Le Ching are competitive.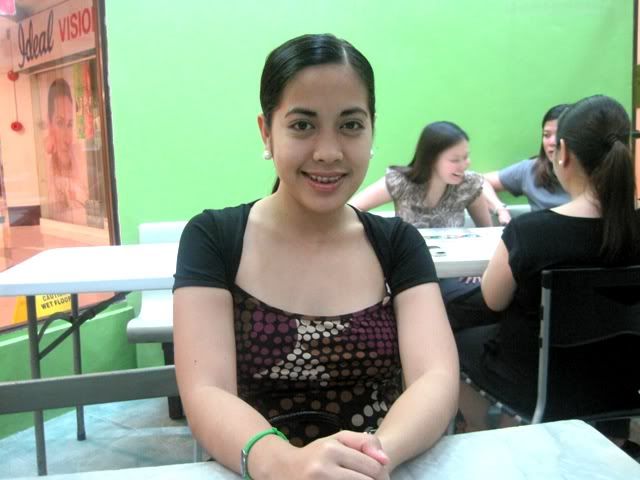 Ambiance at Le Ching-Greenhills is more like canteen style with its low-rise tables and desk-type benches. I guess they chose this kind of setup for easy turnover of diners since it is located in a busy shopping complex.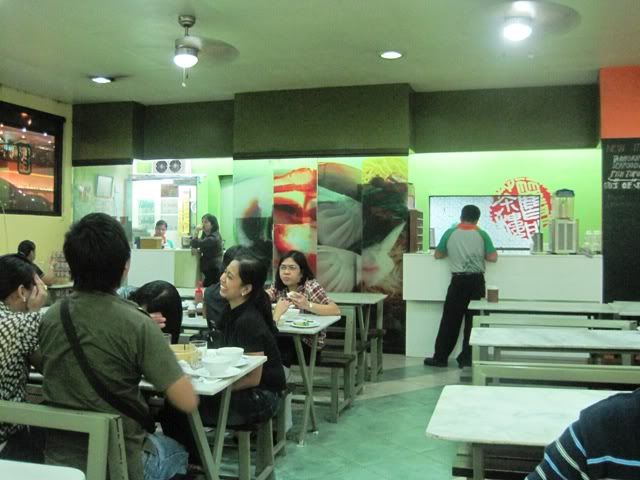 Have you tried Le Ching? What are your favorite dishes there?




Le Ching Tea House


8-10 Level A, Shoppesville Arcade
Greenhills, San Juan City


If you liked this post and would be interested to get updated with

Foodiestation

, bookmark this site or subscribe to my feeds.