Want a taste of the wild, wild West and eat as the cowboys do? Then head on to
Texas Roadhouse Grill
, one of the more trendy restaurants in the hip El Pueblo in Ortigas. I promise you it's gonna be a gastronomic ride.

Just the other night, I got the chance to sample the offerings of the restaurant through a bloggers event organized by

Team Yehey

. I arrived at the venue tad late but the program hadn't started yet. Good for me. My blogger friends

Monique

,

Mee-I

and

Abbie

were already there and were kind enough to reserve me a seat. We chatted for a while over nachos, unshelled roasted peanuts and ice-cold glasses of lemonade. Soon we were seen partaking of the restaurant's specialties that came straight from the Texas Roadhouse kitchen.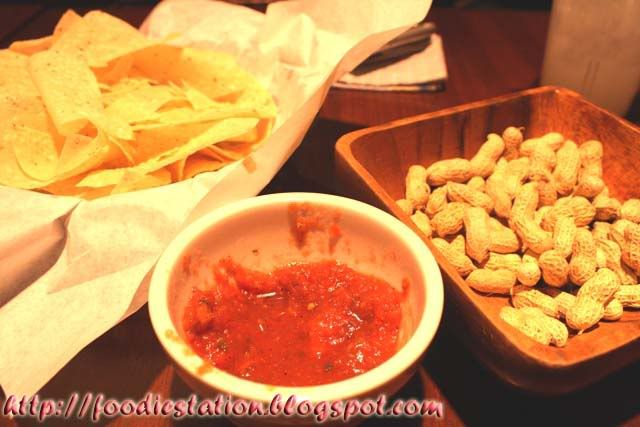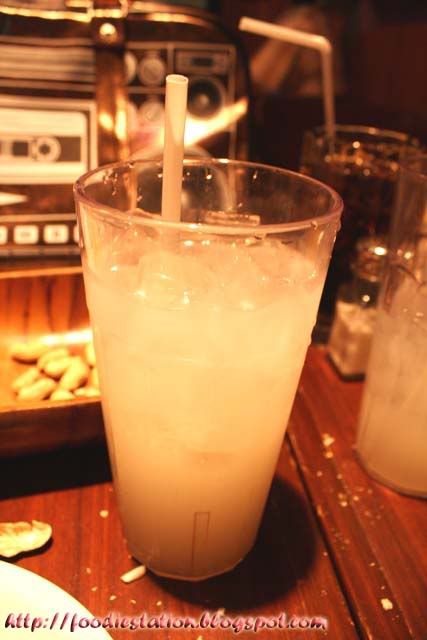 First we were served a bowl of corn soup each. It had generous servings of ham and corn. It also had crushed tortilla that gave texture to the soup. I liked it. I thought it was way better than the creamy chicken and corn soup at Shakey's.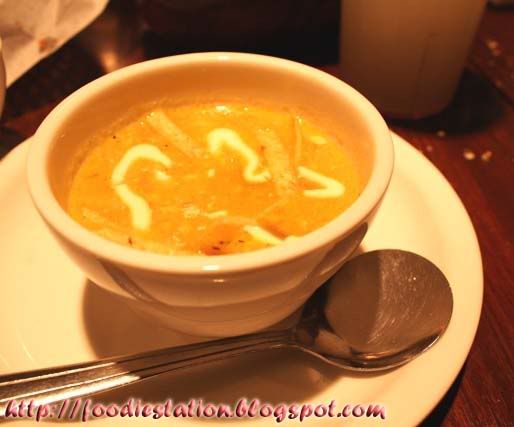 Next were the appetizers that came in a big platter. It consisted of chicken tenders, buffalo chicken wings and mozzarella cheese sticks with three dips (salsa, sour cream and cheesy mustard). Among them, the mozzarella cheese sticks were the winner. It was my first time to bite into a real mozzarella cheese stick and it made a lasting impression in my head. I'm used to homemade cheese sticks made from cheddar cheese. Haha.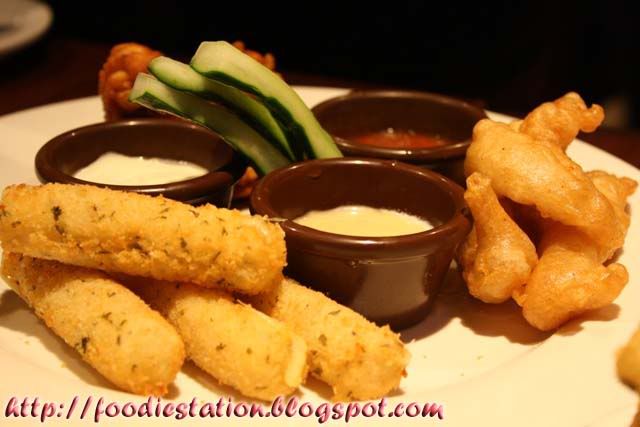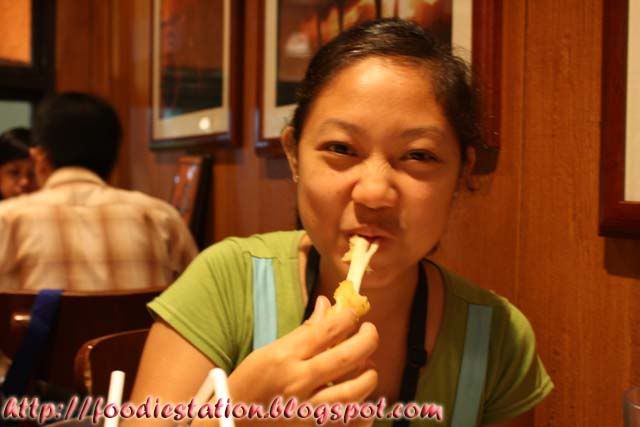 Mee-I's mozzarella cheese stick moment


The highlight of the dinner was the

Black Angus Ribeye Steak

done medium-well. It was tender, juicy and flavorful. It also had its share of the famed "marbled fat." The steak came with a big scoop of mashed potato and buttered veggies. The mashed potato tasted like fresh potatoes and not the one in powdered form that you find in other restaurants. The half-cooked vegetables, on the other hand, were crispy and juicy. I learned from the menu that the steak meal served to us costs P1,100. But worry not, the serving is good for two hungry people.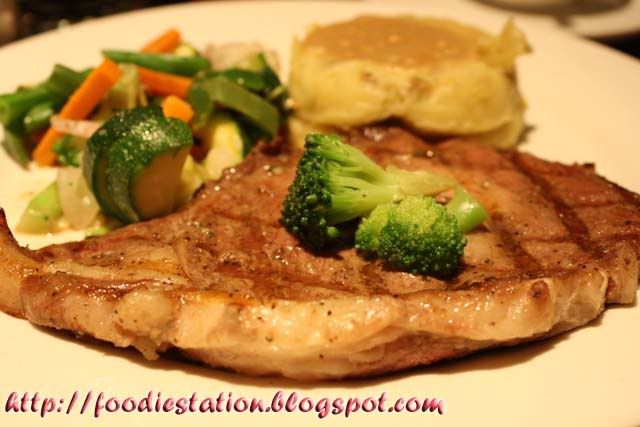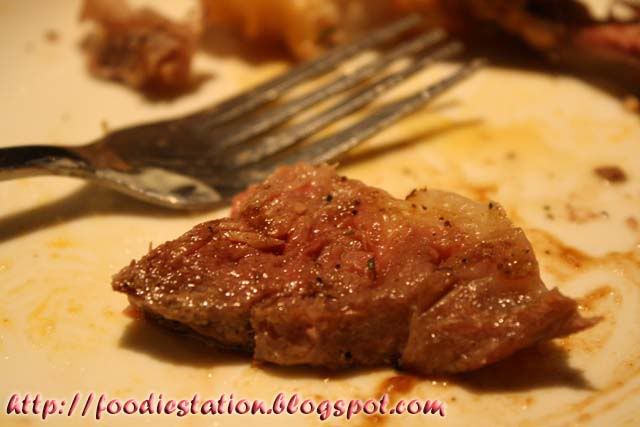 There were condiments on the table to go with the steak such as Tabasco, Lea & Perrins worscestershire sauce and A.1. steak sauce. The steak sauce had a strong flavor that upon trying it, I found out it overpowered the steak. But then, to each his own.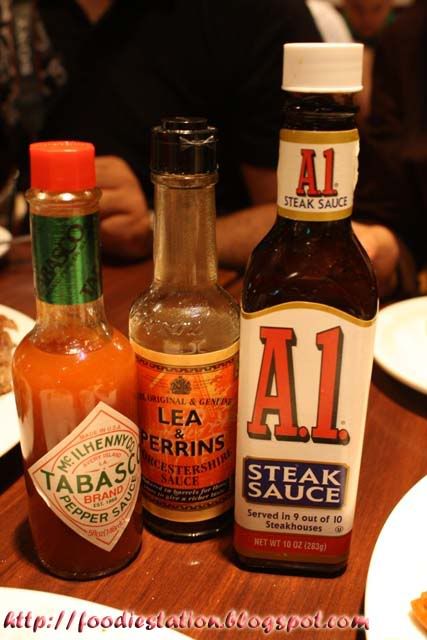 The

Shrimp and Salmon Skewers

that came after the steak was not one to be left out on that night's feast. It was served in a big plate with matching flavored rice and buttered veggies. The shrimp was ordinary but the salmon had a sweet and fresh taste.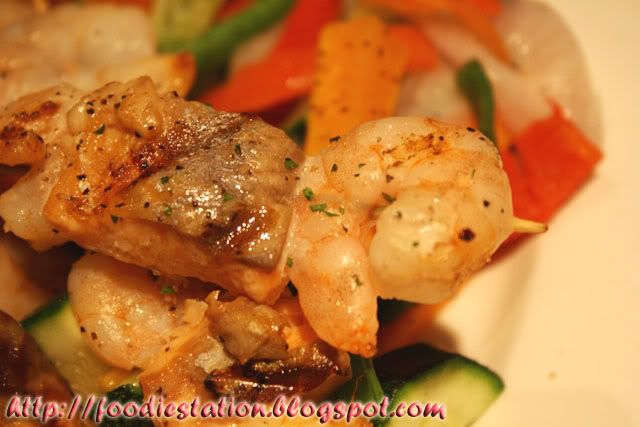 We capped off the dinner with the dessert called

Mighty Oreo Mud Pie

. The menu describes it as "

layers of rich coffee and chocolate ice cream with Snickers candy pieces atop a crushed Oreo cookie and drizzled with chocolate sauce.

" (It reminded me of the decadent dessert I had at Casa Verde in Cebu that had almost the same ingredients and appearance. ) It made everyone in the room gasped with delight. It was sinful, so to speak.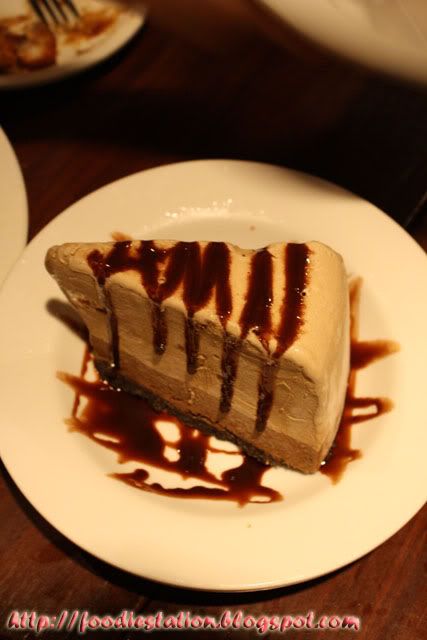 The ambiance at

Texas Roadhouse Grill

range from laid-back to groovy and festive. The restaurant's interiors were spacious, with lots of framed photos on the walls depicting the life of cowboys in the Wild West. It opens at 11:00 am to 12:00 m.n. from Sunday to Thursday and 11:00 a.m. to 2:00 a.m. on Fridays and Saturdays. The good thing about the restaurant is that it has separate rooms for smokers and non-smokers. Also, aside from steaks and grilled specialties, they serve pasta and rice meals so there's always something for everyone. Allot P400 per head.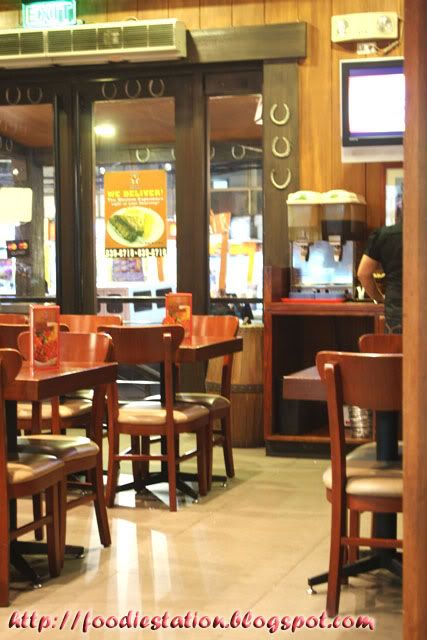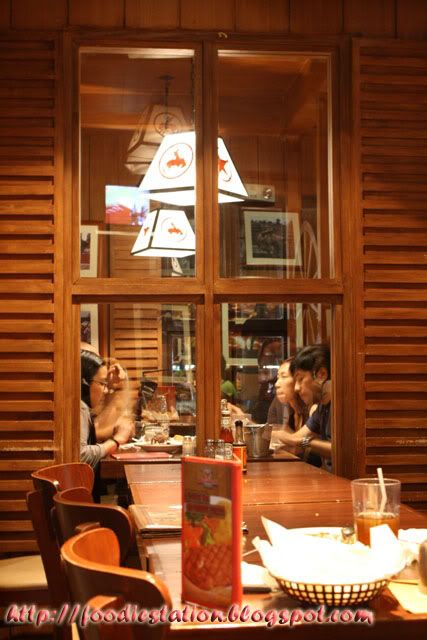 Texas Roadhouse Grill

currently has two branches. The other one that opened in 2007 is in the Fort, Taguig.

Many thanks to

Texas Roadhouse Grill-El Pueblo

and

Team Yehey

for this awesome opportunity to know your restaurant better and enjoy a cowboy's feast for free. :)



Texas Roadhouse Grill


El Pueblo, Ortigas
Pasig City


If you liked this post and would be interested to get updated with

Foodiestation

, bookmark this site or subscribe to my feeds.